Resource Library & Links
---
I highly recommend http://bookfinder.com to search out these books.
---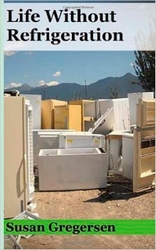 Life without Refrigeration Why would you ever be without refrigeration? It could be voluntary, such as moving to an off-grid property, or it could be involuntary, such as the electric power grid going down due to a natural disaster or terrorist/war act. Perhaps your refrigerator will quit working at a time when you can't afford to replace it, or you just want to lower your electric bill or make less of an impact on the earth. Whether it's voluntary or involuntary, it's a good idea to have some back-up plans and information, just in case.
Review: Nice for a beginner to the idea of no refrigerator. Lots of tiny bits of commonly available knowledge gathered together in one place. If I hadn't already done so much research this would have saved me so much time! That said it's more about alternative means of supplying "coolth" than living without. The first 15 pages are mainly on the "why would you" (who we are" premise and pages 15-47 are on stuff from root cellars, evaporative cooling, sand pots ,ice houses and snow caves, springs and wells and cool places to store food for temporary storage - nice but too little info to be truly informative, does give you enough of an overview to decide if you want to do further research or implementation. The next 26 pages are the true meat of the book with preservation and cooking tips, commercial products and if they worked for her family and recipes. Good stuff here! The last 9 pages are just common sense -don't be stupid- contamination tips, emergency prep tips and invite to the authors blog.
Paperback: 82 pages
Publisher: CreateSpace Independent Publishing Platform; 7/20/13 edition (August 19, 2013)
Language: English
ISBN-10: 1492192597
ISBN-13: 978-1492192596
---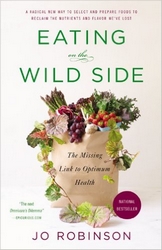 Eating on the Wild Side: The Missing Link to Optimum Health Ever since farmers first planted seeds 10,000 years ago, humans have been destroying the nutritional value of their fruits and vegetables. Unwittingly, we've been selecting plants that are high in starch and sugar and low in vitamins, minerals, fiber, and antioxidants for more than 400 generations.
EATING ON THE WILD SIDE reveals the solution--choosing modern varieties that approach the nutritional content of wild plants but that also please the modern palate. Jo Robinson explains that many of these newly identified varieties can be found in supermarkets and farmer's market, and introduces simple, scientifically proven methods of preparation that enhance their flavor and nutrition. Based on years of scientific research and filled with food history and practical advice, EATING ON THE WILD SIDE will forever change the way we think about food.
Paperback: 416 pages
Publisher: Little, Brown and Company; Reprint edition (May 20, 2014)
Language: English
ISBN-10: 0316227935
ISBN-13: 978-0316227933
---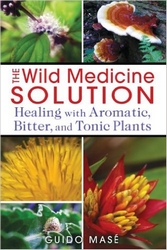 The Wild Medicine Solution: Healing with Aromatic, Bitter, and Tonic Plants Restoring the use of wild plants in daily life for vibrant physical, mental, and spiritual health • Explains how 3 classes of wild plants--aromatics, bitters, and tonics--are uniquely adapted to work with our physiology because we coevolved with them • Provides simple recipes to easily integrate these plants into meals as well as formulas for teas, spirits, and tinctures • Offers practical examples of plants in each of the 3 classes, from aromatic peppermint to bitter dandelion to tonic chocolate
As people moved into cities and suburbs and embraced modern medicine and industrialized food, they lost their connection to nature, in particular to the plants with which humanity coevolved. These plants are essential components of our physiologies--tangible reminders of cross-kingdom signaling--and key not only to vibrant physical health and prevention of illness but also to soothing and awakening the troubled spirit.
Blending traditional herbal medicine with history, mythology, clinical practice, and recent findings in physiology and biochemistry, herbalist Guido Masé explores the three classes of plants necessary for the healthy functioning of our bodies and minds--aromatics, bitters, and tonics. He explains how bitter plants ignite digestion, balance blood sugar, buffer toxicity, and improve metabolism; how tonic plants normalize the functions of our cells and nourish the immune system; and how aromatic plants relax tense organs, nerves, and muscles and stimulate sluggish systems, whether physical, mental, emotional, or spiritual. He reveals how wild plants regulate our heart variability rate and adjust the way DNA is read by our cells, controlling the self-destructive tendencies that lead to chronic inflammation or cancer.
Offering examples of ancient and modern uses of wild plants in each of the 3 classes--from aromatic peppermint to bitter dandelion to tonic chocolate--Masé provides easy recipes to integrate them into meals as seasonings and as central ingredients in soups, stocks, salads, and grain dishes as well as including formulas for teas, spirits, and tinctures. Providing a framework for safe and effective use as well as new insights to enrich the practice of advanced herbalists, he shows how healing "wild plant deficiency syndrome"--that is, adding wild plants back into our diets--is vital not only to our health but also to our spiritual development.
Paperback: 328 pages
Publisher: Healing Arts Press; 1 edition (March 24, 2013)
Language: English
ISBN-10: 1620550849
ISBN-13: 978-1620550847
---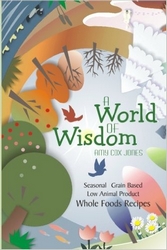 A World of Wisdom: Seasonal, Grain-based, Low Animal Product, Whole Foods Recipes Eating according to what is in season isn't a new idea, but it is one that is being proven to be based on a sound medical, ethical, environmental and scriptural foundation. From basic staples to scrumptious desserts, A World of Wisdom will take you through the seasons and show you how easy it is to follow the Word of Wisdom. 198 pages of seasonal, grain based, low animal products, whole foods recipes organized according to season. Includes a section on many ordinary and unusual grains with easy cooking directions.
Paperback: 216 pages
Publisher: Salt of the Earth Press; 2nd edition (August 15, 2007)
Language: English
ISBN-10: 0981694918
ISBN-13: 978-0981694917
---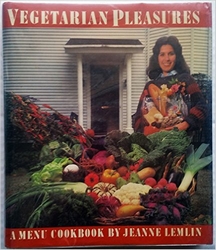 Vegetarian Pleasures You don't have to be a vegetarian to be tempted by these 74 menus, comprising 250 recipes for quick, informal and elegant meals, summer fare, breakfasts and brunches. A cooking instructor at Manhattan's New School for Social Research, Lemlin presents nutritionally and esthetically balanced menus from a variety of culinary traditions. She specializes in creative mixed marriages, such as tofu francese with artichoke hearts, where in combining Italian and Chinese styles chunks of tofu are dipped in an egg batter and sauteed, then cooked in a lemon, butter and white-wine sauce with artichokes. This excellent resource will help readers appreciate vegetarian cooking for the adventurous and satisfying cuisine it can be, offering such possibilities as iced plum soup, black bean and cream cheese enchiladas, and baked macaroni and cheese with cauliflower and jalapeno peppers. Recipes for basics (perfect brown rice, pesto) and the glossary will be particularly useful to the uninitiated. Illustrations not seen by PW. BOMC/Cooking & Crafts Club and Better Homes & Gardens Cook Book Club alternates.
Copyright 1986 Reed Business Information, Inc
Hardcover: 301 pages
Publisher: Knopf; First Thus edition (April 12, 1986)
Language: English
ISBN-10: 0394541170
ISBN-13: 978-0394541174
---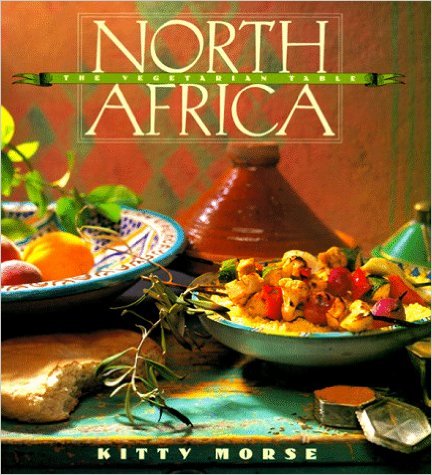 The Vegetarian Table: North Africa, Kitty Morse. Redolent of saffron, ginger, and cinnamon, and vivid with the sun-drenched flavors of fresh fruits, grains, and vegetables, the cuisines of Morocco, Algeria, and Tunisia are as delicious as they are exotic. More than 80 distinctive vegetarian recipes, a special section on entertaining, and tempting, full-color photographs fill this exciting fourth volume in the popular Vegetarian Table series --a splendid introduction to the sumptuous foods and flavors of North Africa right here at home. This latest volume in the Vegetarian Table series features delectable fare from one of the world's most popular cuisines.
Series: Vegetarian Table Series , Vol 4
Hardcover: 168 pages
Publisher: Chronicle Books (May 1, 1996)
Language: English
ISBN-10: 0811806944
ISBN-13: 978-0811806947
---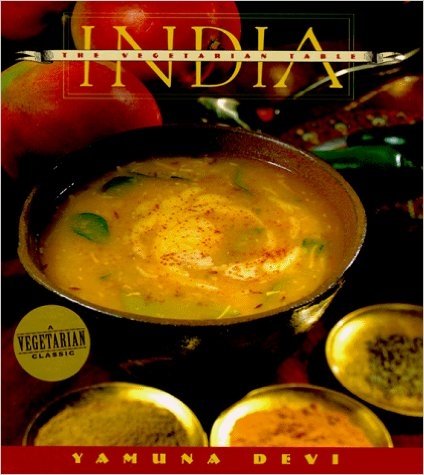 The Vegetarian Table: India, Yamuna Dev. Best-selling author Yamuna Devi serves up a fabulous array of delicious dishes in this latest title in the popular Vegetarian Table series. The Indian vegetarian tradition is the oldest and most varied in the world, embracing the choicest produce, wholesome grains and legumes, and fragrant seasonings. The Vegetarian Table: India features more than eighty spice-laden dishes and includes tips for stocking an Indian pantry and serving meals in traditional style. Complete with elegant full-color photos, this book will be a welcome addition to any cook's library.
Hardcover: 156 pages
Publisher: Chronicle Books; 1st edition (April 1, 1997)
Language: English
ISBN-10: 0811811441
ISBN-13: 978-0811811446
---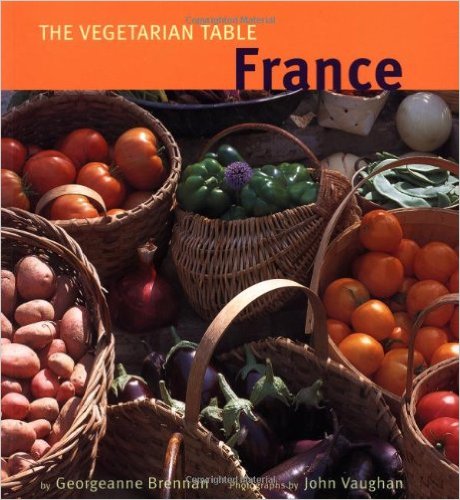 The Vegetarian Table: France, Georgeanne Brennan. An exciting new perspective on a cherished cuisine (The San Francisco Chronicle), the Vegetarian Table series celebrates the rich diversity of flavors, fruits and vegetables, grains and legumes, and the variety of enticing spices found all over the world, providing the perfect opportunity for indulging the vegetarian palate. Lavishly illustrated with stunning full-color photography and text by some of the finest food writers in the industry, this popular Chronicle Books series is now available in paperback. Featuring distinctive vegetarian recipes for appetizers, soups and salads, pastas and noodles, main dishes, breads, and desserts, the cuisines are as delicious as they are exotic. The Vegetarian Table series offers an enticing and nutritious way to bring the sumptuous food and flavors from around the globe to any vegetarian tablewherever it may be.
Paperback: 144 pages
Publisher: Chronicle Books (August 2000)
Language: English
ISBN-10: 0811830322
ISBN-13: 978-0811830324
---
The Vegetarian Table: Mexico, Victoria Wise. Inspired by the increasing popularity of vegetarian fare and the vibrant taste sensations of Mexican cuisine, this second volume in The Vegetarian Table series offers a full range of tempting vegetarian appetizers, entrées, and desserts with a piquant flair. A delectable mosaic of culinary traditions joining the Old World and the Americas, the book's 80 recipes -- from a spicy Jicama and Watermelon Salsa to classic Chiles con queso, savory Red Enchiladas, and tasty Dessert Empanadas with Apple and Pecan Filling -- provide the perfect opportunity to indulge the vegetarian palate. With over 30 gorgeous, full-color photographs and a glossary of special ingredients, this unique and accessible cookbook makes it easier than ever to add a Mexican accent to any table.
Series: Vegetarian Table
Hardcover: 156 pages
Publisher: Chronicle Books; Fifth or Later Edition edition (March 1, 1995)
Language: English
ISBN-10: 0811804755
ISBN-13: 978-0811804752
---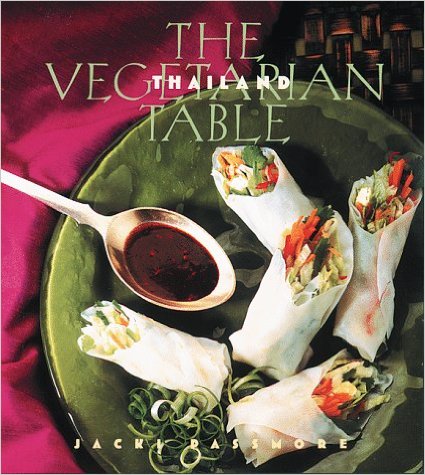 The Vegetarian Table: Thailand, Jacki Passmore. Illustrated with gorgeous photographs, this is the first book to treat vegetarian Thai cuisine in elegant hardcover style -- and at a pleasantly affordable price. Jacki Passmore is respected in culinary circles around the globe for her knowledge of Asian food. Here she presents an unbeatable collection of vegetarian Thai recipes, skillfully sidestepping meat without missing any favorites. Based on succulent noodles and rice, tangy sauces, crisp vegetables, and pungent herbs and spices, Thai cooking is ideal for today's health-conscious cooks, and these carefully crafted recipes make Thai flavor marvelously easy to achieve at home. From essentials like Cucumber Salad with Roast Peanut Dressing to zesty curries, soups, stir-fries, and more, The Vegetarian Table: Thailand deserves a central place in any kitchen where spice, adventure, and delicious vegetarian foods are welcome.
Series: Vegetarian Table
Hardcover: 160 pages
Publisher: Chronicle Books; 1st edition (September 1, 1997)
Language: English
ISBN-10: 0811812146
ISBN-13: 978-0811812146
---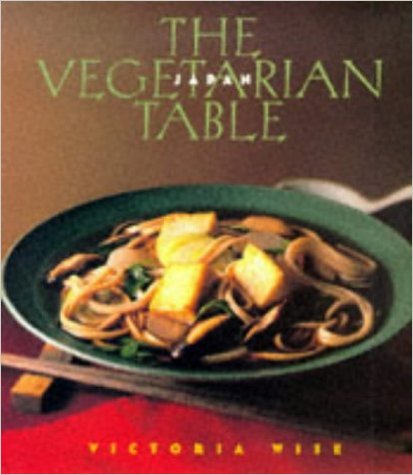 The Vegetarian Table: Japan, Victoria Wise The gifted author-photographer duo who created The Vegetarian Table: Mexico are back with their rendition of Japanese vegetarian cuisine. The Land of the Rising Sun has a long-standing tradition of wholesome vegetarian eating, and the recipes presented here are extremely healthful -- many include soy, and many are entirely nonfat. The dishes sing with flavorful ginger, green onion, sesame, wasabi mustard, rice vinegar, roasted nori, and other savory ingredients. Written in a clear and simple style and illustrated with elegant photography, The Vegetarian Table: Japan makes this venerable and delicious cuisine manageable for even a novice.
Series: Vegetarian Table
Hardcover: 132 pages
Publisher: Chronicle Books; illustrated edition edition (May 1, 1998)
Language: English
ISBN-10: 081181565X
ISBN-13: 978-0811815659
---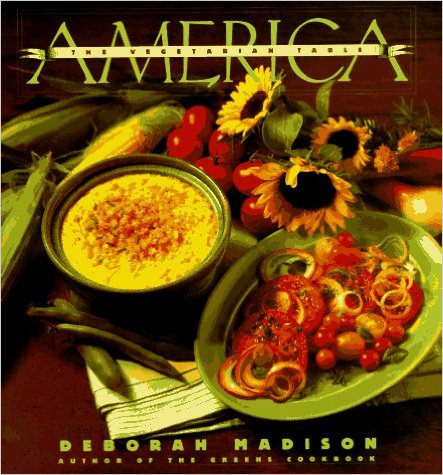 The Vegetarian Table: America, Deborah Madison. Deborah Madison is an accomplished food writer with several other vegetarian cookbooks to her credit. This one focuses on traditional American foods and ingredients. I made several recipes out of this book over the holidays-Corn Pudding and Hominy Grits Casserole are two that were especially popular. The book is visually pleasing, and the recipes turn out like the photographs. Madison is a lucid, non-preachy writer and the recipes are easy to follow. She does not insult the reader with hard-to-find ingredients or complicated procedures. While American culinary traditions are thought of as meat-oriented, she has done a fine job of reminding us that our heritage includes worthy vegetables, fruits, grains and dairy products. Although not for vegans, this collection works well for ovo-lactos as well as carnivores who are seeking ways to complement or de-emphasize meat in their diets.
Series: Vegetarian Table
Hardcover: 144 pages
Publisher: Chronicle Books; First Edition edition (September 1, 1996)
Language: English
ISBN-10: 0811808882
ISBN-13: 978-0811808880
---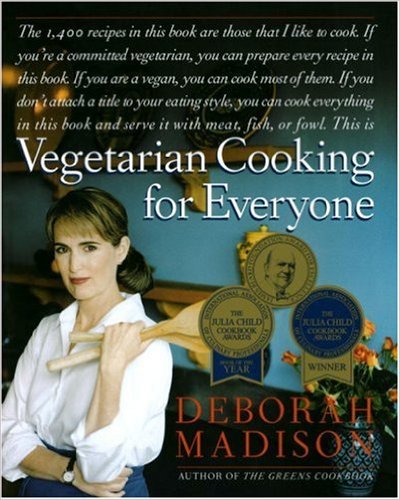 Vegetarian Cooking for Everyone, Deborah Madision. What Julia Child is to French cooking and Marcella Hazan is to Italian cooking, Deborah Madison is to contemporary vegetarian cooking. At Greens restaurant in San Francisco, where she was the founding chef, and in her two acclaimed vegetarian cookbooks, Madison elevated vegetarian cooking to new heights of sophistication, introducing many people to the joy of cooking without meat, whether occasionally or for a lifetime. But after her many years as a teacher and writer, she realized that there was no comprehensive primer for vegetarian cooking, no single book that taught vegetarians basic cooking techniques, how to combine ingredients, and how to present vegetarian dishes with style. Now, in a landmark cookbook that has been six years in the making, Madison teaches readers how to build flavor into vegetable dishes, how to develop vegetable stocks, and how to choose, care for, and cook the many vegetables available to cooks today.
Vegetarian Cooking for Everyone is the most comprehensive vegetarian cookbook ever published. The 1,400 recipes, which range from appetizers to desserts, are colorful and imaginative as well as familiar and comforting. Madison introduces readers to innovative main course salads; warm and cold soups; vegetable braises and cobblers; golden-crusted gratins; Italian favorites like pasta, polenta, pizza, and risotto; savory tarts and galettes; grilled sandwiches and quesadillas; and creative dishes using grains and heirloom beans. At the heart of the book is the A-to-Z vegetable chapter, which describes the unique personalities of readily available vegetables, the sauces and seasonings that best complement them, and the simplest ways to prepare them. Becoming a Cook teaches cooking basics, from holding a knife to planning a menu, and Foundations of Flavor discusses how to use sauces, herbs, spices, oils, and vinegars to add flavor and character to meatless dishes. In each chapter, the recipes range from those suitable for everyday dining to dishes for special occasions. And through it all, Madison presents a philosophy of cooking that is both practical and inspiring.
Despite its focus on meatless cooking, Vegetarian Cooking for Everyone is not just for vegetarians: It's for everyone interested in learning how to cook vegetables creatively, healthfully, and passionately. The recipes are remarkably straightforward, using easy-to-find ingredients in inspiring combinations. Some are simple, others more complex, but all are written with an eye toward the seasonality of produce. And Madison's joyful and free-spirited approach to cooking will send you into the kitchen with confidence and enthusiasm. Whether you are a kitchen novice or an experienced cook, this wonderful cookbook has something for everyone.
Hardcover: 752 pages
Publisher: Broadway; 1 edition (October 1, 1997)
Language: English
ISBN-10: 0767900146
ISBN-13: 978-0767900140
---
A series of books on regional foraging
---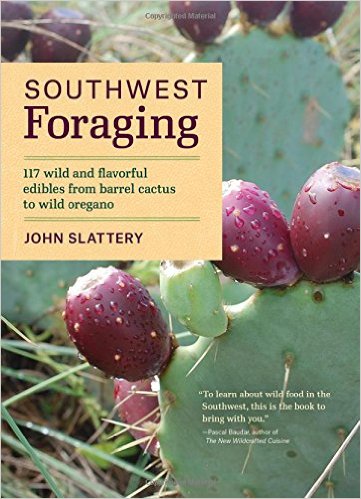 Southwest Foraging: 117 Wild and Flavorful Edibles from Barrel Cactus to Wild Oregano, John Slattery. Southwest Foraging helps new and experienced foragers find the most flavorful wild plants the region has to offer, including barrel cactus, chickweed, Indian tea, and saguaro. This savvy, accessible, full-color guide shows you what to look for, when and where to look, and how to gather in a responsible way. It profiles 117 plants, with detailed information for safe identification, advice on sustainable harvesting, and tips on preparation and use.
Series: Regional Foraging Series
Paperback: 320 pages
Publisher: Timber Press (August 10, 2016)
Language: English
ISBN-10: 1604696508
ISBN-13: 978-1604696509
---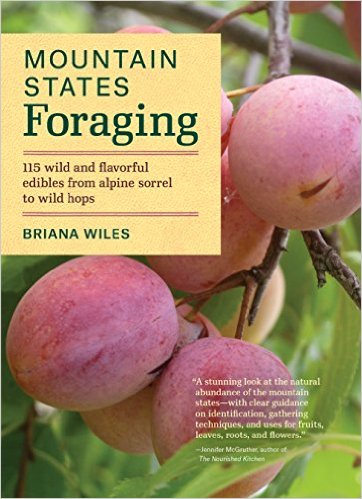 Mountain States Foraging: 115 Wild and Flavorful Edibles from Alpine Sorrel to Wild Hops, Briana Wiles. From alpine meadows to high deserts and lush forests, the mountain states are rich with wild edibles. Forager and herbalist Briana Wiles helps you find delicious plants for the picking--treats like spicy wild onion flowers, tender spring asparagus, and sweet late-summer blueberries. Back in the kitchen, infuse vinegars with spruce tips or make stinging nettle pesto with freshly foraged piñon nuts.
Series: Regional Foraging Series
Paperback: 338 pages
Publisher: Timber Press (June 15, 2016)
Language: English
ISBN-10: 1604696788
ISBN-13: 978-1604696783
---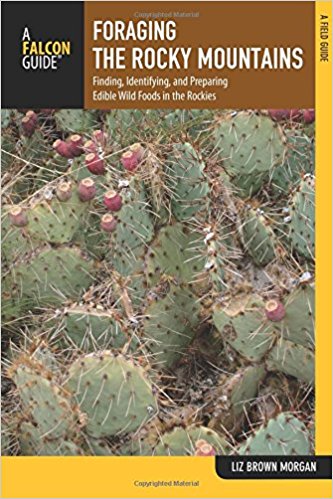 Foraging the Rocky Mountains: Finding, Identifying, And Preparing Edible Wild Foods In The Rockies, First Edition, LIZBETH MORGAN. The Rocky Mountain region's diverse geography overflows with edible plant species. From salsify to pearly everlasting, currants to pine nuts, Foraging the Rocky Mountains guides you to 85 edible wild foods and healthful herbs of the region. This valuable reference guide will help you identify and appreciate the wild bounty of the Rocky Mountain states. This guide also includes:
detailed descriptions of edible plants and animals
tips on finding, preparing, and using foraged foods
recipes suitable for the trail and at home
detailed, full-color photos
a glossary of botanical terms
Series: Foraging Series
Paperback: 272 pages
Publisher: Falcon Guides; 1 edition (June 4, 2013)
Language: English
ISBN-10: 0762782609
ISBN-13: 978-0762782604
---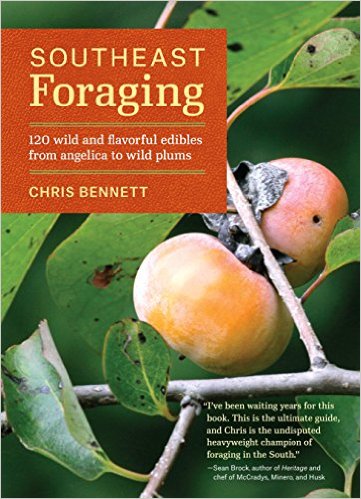 Southeast Foraging: 120 Wild and Flavorful Edibles from Angelica to Wild Plums, Chris Bennett. Forager, farmer, teacher, and chef Chris Bennett helps you find the most delicious plants--from delectable wild greens, like the often-overlooked sweet, fan-shaped leaves of common mallow to wild hazelnuts, hickory nuts, and fruity black walnuts. Try making syrup from summer's honeysuckle blooms, simmer a rosehip jam, or pickle some blackberries in vinegar to spark up a savory dish. Whether you venture out on the water for cattail corndogs and wild rice or stay close to home for the candy-crunch of hackberry fruits, this book will help you find an abundance of wild plants right outside your door.
Series: Regional Foraging Series
Paperback: 296 pages
Publisher: Timber Press (April 22, 2015)
Language: English
ISBN-10: 1604694998
ISBN-13: 978-1604694994
---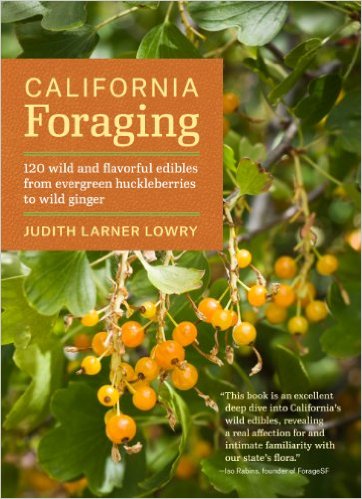 California Foraging: 120 Wild and Flavorful Edibles from Evergreen Huckleberries to Wild Ginger , Judith Lowry. The Golden State is home to an abundance of delicious wild edible plants. From woodlands to wetlands, grasslands to mountains, and coast to desert, delectable and unique wild foods beckon the curious forager. Consider the delights of blending wild borage leaves into a pungent pesto and decorating a salad with the blue, star-shaped flowers. If you're in the desert, sample the sweet-tasting blooms and pea-like seeds of blue palo verde. In wetlands gather cattail pollen for golden pancakes. Plan a foraged feast.
Series: Regional Foraging Series
Paperback: 344 pages
Publisher: Timber Press (July 29, 2014)
Language: English
ISBN-10: 1604694203
ISBN-13: 978-1604694208
---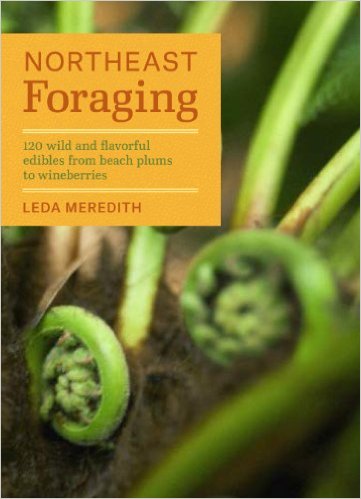 Northeast Foraging: 120 Wild and Flavorful Edibles from Beach Plums to Wineberries, Leda Meredith. The Northeast offers a veritable feast for foragers. The woods, meadows, seashore, and even city neighborhoods are home to an abundance of delicious wild edible plants. Learn how to find spicy peppergrass seedpods in a sunny meadow to replace store-bought peppercorns. You can gather delicious cattail shoots for a spring salad and even tame some weedy, pungent garlic mustard in your next stir-fry.
Series: Regional Foraging Series
Paperback: 308 pages
Publisher: Timber Press (April 8, 2014)
Language: English
ISBN-10: 1604694173
ISBN-13: 978-1604694178
---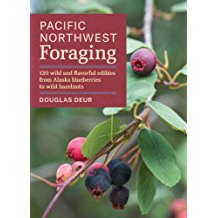 Pacific Northwest Foraging: 120 Wild and Flavorful Edibles from Alaska Blueberries to Wild Hazelnuts , Douglas Deur. The Pacific Northwest offers a veritable feast for foragers. The forests, meadows, streambanks, and even the weedy margins of neighborhoods are home to an abundance of delicious wild edible plants. Discover wild lilies with their peppery flowers, buds, and seeds and use them in your spring salads. Select sweet, succulent thistles or the shoots of invasive Himalayan blackberries and Japanese knotweed to add wonderful flavor to hearty soups.
Series: Regional Foraging Series
Paperback: 290 pages
Publisher: Timber Press (June 3, 2014)
Language: English
ISBN-10: 1604693525
ISBN-13: 978-1604693522
---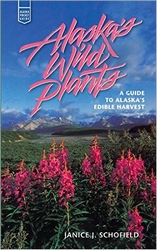 Alaska's Wild Plants: A Guide to Alaska's Edible Harvest (Alaska Pocket Guide) An authoritative guide book to more than 70 of Alaska's most common wild edible plants. Tuck this guide into a backpack, glove compartment, or pocket and use its color photographs and habitat and plant descriptions to help you discover the bounty of the land and its plants around you.
The authoritative gathering instructions ensure a healthful harvest. Learn about each plant's nutritional content, and medicinal and culinary uses. Also included are recipes for fresh salads, unusual appetizers, delicious soups, breads and more.
Series: Alaska Pocket Guide
Paperback: 96 pages
Publisher: Alaska Northwest Books; 42481st edition (June 1, 2003)
Language: English
ISBN-10: 0882404334
ISBN-13: 978-0882404332
---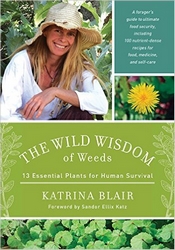 The Wild Wisdom of Weeds: 13 Essential Plants for Human Survival The Wild Wisdom of Weeds is the only book on foraging and edible weeds to focus on the thirteen weeds found all over the world, each of which represents a complete food source and extensive medical pharmacy and first-aid kit. More than just a field guide to wild edibles, it is a global plan for human survival.
Katrina Blair's philosophy in The Wild Wisdom of Weeds is sobering, realistic, and ultimately optimistic. If we can open our eyes to see the wisdom found in these weeds right under our noses, instead of trying to eradicate an "invasive," we will achieve true food security. The Wild Wisdom of Weeds is about healing ourselves both in body and in spirit, in an age where technology, commodity agriculture, and processed foods dictate the terms of our intelligence. But if we can become familiar with these thirteen edible survival weeds found all over the world, we will never go hungry, and we will become closer to our own wild human instincts?all the while enjoying the freshest, wildest, and most nutritious food there is. For free!
The thirteen plants found growing in every region across the world are: dandelion, mallow, purslane, plantain, thistle, amaranth, dock, mustard, grass, chickweed, clover, lambsquarter, and knotweed. These special plants contribute to the regeneration of the earth while supporting the survival of our human species; they grow everywhere where human civilization exists, from the hottest deserts to the Arctic Circle, following the path of human disturbance. Indeed, the more humans disturb the earth and put our food supply at risk, the more these thirteen plants proliferate. It's a survival plan for the ages.
Including over one hundred unique recipes, Katrina Blair's book teaches us how to prepare these wild plants from root to seed in soups, salads, slaws, crackers, pestos, seed breads, and seed butters; cereals, green powders, sauerkrauts, smoothies, and milks; first-aid concoctions such as tinctures, teas, salves, and soothers; self-care/beauty products including shampoo, mouthwash, toothpaste (and brush), face masks; and a lot more. Whether readers are based at home or traveling, this book aims to empower individuals to maintain a state of optimal health with minimal cost and effort.
Paperback: 384 pages
Publisher: Chelsea Green Publishing (October 7, 2014)
Language: English
ISBN-10: 1603585168
ISBN-13: 978-1603585163
---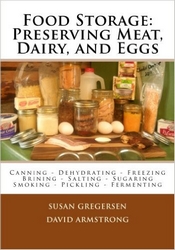 Food Storage: Preserving Meat, Dairy, and Eggs There are a lot of books about food preserving but what sets this book apart is that each food and all the methods for preserving that particular food are described in their own chapters. Turn to the table of contents and find the food you want to preserve, then turn to that page and all the ways you can preserve that particular food are found in that chapter. The book is divided into two sections. Part one is an explanation of all the preserving methods, how to do them, and what you'll need: Canning, Dehydrating, Freezing, Salting, Brining, Sugaring, Smoking, Pickling, and Fermenting, as well as some not-as-often heard of ones as Ash, Oil, and Honey for preservation. Part two begins with meat and works it's way through beef/venison/elk, pork/bear, goat/sheep, rabbit, chicken, turkey, duck/goose, and fish; then dairy: milk, butter, cheeses, yogurt and sour cream, and finishes with a chapter on preserving eggs. All the methods that work well with each food are explained along with directions for the preparation and processing of that food. There is also information about what doesn't work and why.
Paperback: 122 pages
Publisher: CreateSpace Independent Publishing Platform (January 25, 2013)
Language: English
ISBN-10: 1482081210
ISBN-13: 978-1482081213
---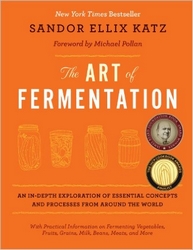 The Art of Fermentation: An In-Depth Exploration of Essential Concepts and Processes from around the World Winner of the 2013 James Beard Foundation Book Award for Reference and Scholarship, and a New York Times bestseller, The Art of Fermentation is the most comprehensive guide to do-it-yourself home fermentation ever published. Sandor Katz presents the concepts and processes behind fermentation in ways that are simple enough to guide a reader through their first experience making sauerkraut or yogurt, and in-depth enough to provide greater understanding and insight for experienced practitioners.
While Katz expertly contextualizes fermentation in terms of biological and cultural evolution, health and nutrition, and even economics, this is primarily a compendium of practical information?how the processes work; parameters for safety; techniques for effective preservation; troubleshooting; and more.
With two-color illustrations and extended resources, this book provides essential wisdom for cooks, homesteaders, farmers, gleaners, foragers, and food lovers of any kind who want to develop a deeper understanding and appreciation for arguably the oldest form of food preservation, and part of the roots of culture itself.
Readers will find detailed information on fermenting vegetables; sugars into alcohol (meads, wines, and ciders); sour tonic beverages; milk; grains and starchy tubers; beers (and other grain-based alcoholic beverages); beans; seeds; nuts; fish; meat; and eggs, as well as growing mold cultures, using fermentation in agriculture, art, and energy production, and considerations for commercial enterprises. Sandor Katz has introduced what will undoubtedly remain a classic in food literature, and is the first and only of its kind.
Hardcover: 498 pages
Publisher: Chelsea Green Publishing; Later prt. edition (May 14, 2012)
Language: English
ISBN-10: 160358286X
ISBN-13: 978-1603582865
---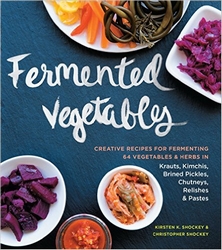 Fermented Vegetables: Creative Recipes for Fermenting 64 Vegetables & Herbs in Krauts, Kimchis, Brined Pickles, Chutneys, Relishes & Pastes Even beginners can make their own fermented foods! This easy-to-follow comprehensive guide presents more than 120 recipes for fermenting 64 different vegetables and herbs. Learn the basics of making kimchi, sauerkraut, and pickles, and then refine your technique as you expand your repertoire to include curried golden beets, pickled green coriander, and carrot kraut. With a variety of creative and healthy recipes, many of which can be made in batches as small as one pint, you'll enjoy this fun and delicious way to preserve and eat your vegetables.
Paperback: 376 pages
Publisher: Storey Publishing, LLC (October 7, 2014)
Language: English
ISBN-10: 1612124259
ISBN-13: 978-1612124254
---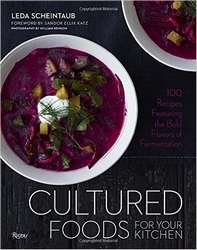 Cultured Foods for Your Kitchen: 100 Recipes Featuring the Bold Flavors of Fermentation. One hundred inspired recipes to enliven your cooking with pickles, yogurt, kombucha, and beyond. Cultured Foods for Your Kitchen draws on the traditions of fermenting from around the world, offering inspiring ways to incorporate nutritional cultures into everyday cooking. Fermentation is a traditional means of preserving the harvest, and today it is also prized for the range of flavors it creates: the spicy kick of kimchi, the cooling tang of yogurt, the refreshing effervescence of kombucha, and the umami depth of miso. Among the one hundred mouthwatering recipes are Buttermilk Avocado Shake, Cauliflower and Raisin Salad with Preserved Lemon Dressing, Zucchini Noodles with Miso Parmesan, Fried Rice with Kimchi and Bacon, and Coconut Sorbet. For those who cherish kitchen projects, this book shows how to make seven building-block ferments from scratch, but the recipes also use store-bought ferments as time-savers. This book offers readers new to fermenting plenty of entry points, while more accomplished cooks will find ideas for expanding their repertoires. Just as fermentation transforms food with a natural alchemy, Cultured Foods for Your Kitchen opens up a whole new world of flavor in the kitchen.
Hardcover: 192 pages
Publisher: Rizzoli (September 9, 2014)
Language: English
ISBN-10: 0789327457
ISBN-13: 978-0789327451
---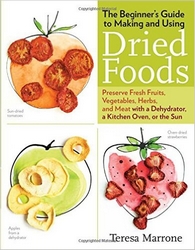 The Beginner's Guide to Making and Using Dried Foods: Preserve Fresh Fruits, Vegetables, Herbs, and Meat with a Dehydrator, a Kitchen Oven, or the Sun. Enjoy that fresh harvest taste all year. Whether you're using a dehydrator, oven, or the sun's rays, you can easily dry your own vegetables, fruits, herbs, and meat. Teresa Marrone's simple step-by-step instructions cover all the basics you need to know about drying, storing, and rehydrating your favorite foods. With over 140 dried-food recipes — ranging from veggie chips to casseroles and beef jerky to baby purées — you'll be amazed at the variety of healthy and delicious options that dried foods offer.
Paperback: 352 pages
Publisher: Storey Publishing, LLC (July 1, 2014)
Language: English
ISBN-10: 1612121799
ISBN-13: 978-1612121796
*****
Tribulation & Endurance - What Do You Mean?
---